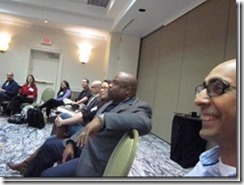 "Lean Agile Open was an amazing fun way of unleashing energies and synchronizing passions. Loved every second was worth days of learning and creating value." For a brief video, please click on the picture above.   Participants offered one-word to describe their experience of working in open space:

Imagine getting the opportunity to facilitate an Open Space event with 50 people with just one day to prepare!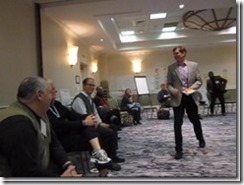 What would you do?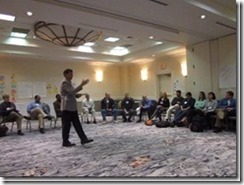 The only solution is to scrap all of the agenda's and let the group create their agenda using the power of Self-Organization.  This group facilitation technique is called Open Space Technology, and Harrison Owen is the father of Open Space.  His work is fascinating for two reasons;1) it really works, and 2) no one has any real idea as to why it works!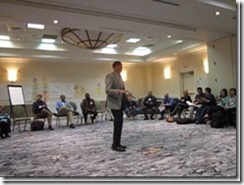 Written feedback from Participants:
Great facilitation by Bob. The group really seemed to enjoy the process and the content they generated for themselves.
Bob led what needed leading, monitored health of the day.
Very well organized by Bob. Well timed and scheduled event.
I like the circle introduction.
Great job explaining format and introducing open concepts.
Bob's talk at the beginning and wrap-up help facilitate the start and feel good wrap-up.
Good flow and set up of expectation setting in the morning before we got started.
Well done. Thanks! Organization (self) of the meeting. Great discussions occurred.
Great introduction and excitement to start the event.
Bob, food, and people were all good!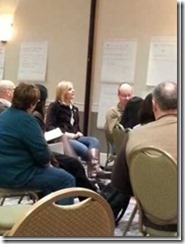 I was very skeptical before joining "Lean Agile Open", but I was pleasantly surprised at how much I learned.  How easy it was to Self-Organize. The feedback I received was helpful. Finally, there were some great topics discussed.
I benefited from meeting and learning from some very talented colleagues about real world situations.
Learning from each other, chance to just talk, iron sharpens iron.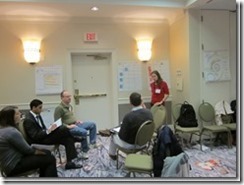 Setting — rooms, lunch, and coffee was available.
Being able to contribute to topics.
Love how the Self-Organizing played out.
I enjoyed the open session concept. Next time I will be more prepared.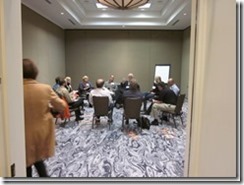 I love that we had real scrum instructors involved were able to speak from both experience and textbook best practice.
I like the open space approach.
Diverse agendas created by the group. Encouraging the law of 2 feet.
Very good sessions learned a lot about real-life agile projects. Inspiring to learn more about agile.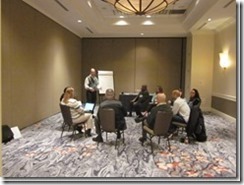 Facilities were good; food, rooms, etc.
Good mix of people, skills, and companies.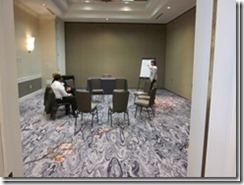 Great! I really like the opportunity to get my topic discussed and to see what topics other people want discussed and the conversations that came out of them.
Really liked the process of creating the topics.
Was really surprised at how well the open space work to generate sessions.
It was a good session and event.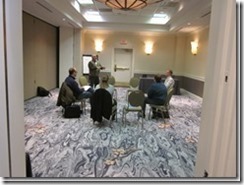 I love that we had real scrum instructors involved were able to speak from both experience and textbook best practice.
I like the participation by all the team players and topics discussed.
Liked the way you broke down the mission.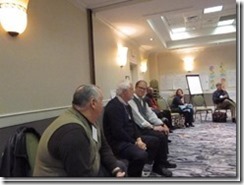 Joe, Incorporated purchase of the issues and questions into scenarios built feedback upon previous session interaction.
So What? (you ask)  Well I asked them; "What one thing have your learned or takeaway you could try out on Monday?, and was blow away with the responses:
The ability to be courageous and experiment.
Take baby steps to get going.
Find the positively influencing people who are ready to try agile.  Not coaching the entire group but find people who along with me bring about that change.
Look for commonality between the agile and waterfall.
Celebrate the successes that there are, in finding the business value and share that story.
Express clearly to the business side — you matter!  Express clearly to the development team — you matter!
Help others embrace change.
Help others to embrace scrum and educate them on the value.
Create definition of story team ready-ready, as it relates to planning.
Show the team understands the system purpose and highlight that they make a difference.
In finding the good with the value.
Taking the ratio.
Getting coaches for middle management, having them get a clear direction of their purpose because they're fearful.
Collaboration between all stakeholders creating more collaboration and quick feedback from the right people.
Conduct my meetings in the circle
Put less pressure on myself because of some of the feedback I received today.  Continue to help educate people
Fill storage space with positive messages
Saying no better and maybe getting to where you don't need to say no at all to get that outcome.
Inspired to create new value.
Helped teams to embrace change.
Creating a better business roadmap
Coach my team to create more business value.
Working to implement positive change.
Dependency analysis
Stressing to the stakeholders that they are a valuable and helps them to appreciate each other.
Coaching the teams to empower themselves.  Enable decision-making without beating people up even if they make the wrong decision.  Give them positive reinforcement.
To educate others coworkers and stakeholders about agile
Manage expectations.
Work on shorter-term goals versus constantly looking at longer-range goals.
Start to ask you all to help us do this again next time.  We had just helped you do at this time!  Yes, and together you're going to help us do it even better next time.  In six months or year we should do this again with an even bigger group and make it even more interesting next time as we learn how to do this.
You notice that today was all about Self-Organization and we all Self-Organized, and some of you walked in and said; "What the ___!  Oh my … there is no agenda!  Who skipped the agenda!  We hope you saw that even though there was no immediate agenda you Self-Organized and it turned out that the agenda was actually quite good and quite useful, and quite effective for us all.
It turns out that serious business problems can be solved by your company by using this technique, and people can learn in this way which they have never learned which is to Self-Organize.  It can also be an eye-opener for a lot of managers and workers and it can be used to help change the culture of the entire organization.
The first thing I'm thinking about is to do this type of thing again for maybe two days not just one day.